Minicon 40 is over. These pages remain as a historical record. Please contact [ar

Minicon Fortean March 25 - 27, 2005

There is a Minicon 40 Livejournal. You can contribute (even if you don't have a Livejournal account, try posting from this page or this one, the name of the community/journal is "minicon40").

Minicon News

Minicon 40 (Minicon Fortean*) will be held on Easter Weekend, March 25-27, 2005 at the Sheraton Bloomington South (formerly the Radisson South).

Our Guests of Honor are

Terry Pratchett

Fastner and Larson

James Young

Early sessions at the hotel

Two work sessions will be held in one of the consuites at the Sheraton on the evenings of March 23 and March 24.

Membership

Memberships may be purchased at the door for $50.

Programming

A tentative programming schedule is available in at Programming Schedule. Look for updates at the convention.

Publications

[Added in 2010–2016]

Program Book:

Pocket Program:

An early flyer:

Progress Report 1:

Pending…

Progress Report 2:

The second progress report was sent as two sheets of paper, stapled shut, but not stapled into a booklet. You can have it as a PDF, or as individual page scans: outside of the outside sheet | inside of the outside sheet | outside of the inside sheet | inside of the inside sheet.
Except as noted below,
The Minicon 40 Program Book
is by
The Minnesota Science Fiction Society, Laramie Sasseville or David Dyer-Bennet
and is licensed under the
Creative Commons Attribution-Noncommercial-Share Alike 3.0 United States License
. Advertisements are property of the advertisers. The Metropolis 1927 art is believed to be public domain. Art by James Kuehl is © James Kuehl and used by permission. Works of Jim Young are © Jim Young and used by permission.
The Minicon 40 Progress Reports 1 and 2 and Pocket Program
are by
The Minnesota Science Fiction Society and is licensed under the Creative Commons Attribution-Noncommercial-Share Alike 3.0 United States License.
T-shirt:
This is the art on the front:
Here are photos of the shirt itself: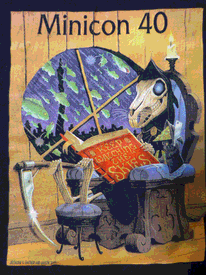 Blood Drive

The Heinlein Society is sponsoring a Blood Drive at Minicon. It will take place from 12noon to 4:00pm on Saturday, March 26th at the convention. A special pin designed by Robert A. Heinlein for the blood drive at MidAmericon in 1976 will be given to each contributor as well as a goody bag. To better help us to know how many to expect, please pre-register from the Minicon web page at Blood Drive

Volunteers

Minicon is an all-volunteer run convention. We need your help. If you would like to help out in any way before, during, or after the convention, please contact us at Volunteers. There will be a reception with Terry Pratchett for qualified volunteers and other special incentives to help out including free books, prizes and a special breakfast with Terry Pratchett.

There will be mini-microprogramming, look for it!

A Word from Minicon Fortean Chairman Greg Ketter

I'd like to invite you to attend Minnesota's oldest science fiction convention. I'm in the early planning stages at this time, but I hope to bring back a number of things from Minicons past, as well as introduce some new ideas. There will be programming panels, talks and lively discussions, music, video programming, and of course, parties. If you have ideas and suggestions, please contact me as soon as possible. I will include as many good ideas as feasible, and welcome all suggestions. I hope to see you on Easter weekend of 2005.

If you have other questions or concerns, or if you wish to volunteer, please contact Greg Ketter

A Note About Charles Fort

If you aren't familiar with the works of Charles Fort (hence 'Fortean') then you probably don't recognize the reference to 'Minicon Fortean.' Fort was a devotee of unusual phenomena and had some skepticism of scientific explanations which ignored inconvient data at hand in favor of predetermined opinion. The Fortean Times, a journal which was founded with Charles Fort in mind, describes itself as a "forum for the discussion of observations and ideas, however absurd or unpopular, and maintains a position of benevolent skepticism towards both the orthodox and unorthodox." A better description of Minicon could not be found. (by Greg Ketter).

artwork by Fastner and Larson Updated by Joyce Scrivner March 22, 2005

chivist |at| mnstf |dot| org] with any questions or comments.