Hotel Information
Minicon 38 was at the Millennium Hotel Minneapolis, 1313 Nicollet Mall, Minneapolis, MN 55403-2697.
The Millennium is a beautiful, newly remodeled hotel at the south end of the Nicollet Mall. It's on the skyway system - convenient if the weather is bad. But there are plenty of excellent restaurants just down the block, as well as a good one in the hotel. It also has 10baseT Ethernet in the bar and in many of its rooms, a lovely pool, and wonderful views of the Minneapolis skyline and Loring Park. The Millennium has a spectacular consuite-it's even got its own geodesic dome!
Directions
The Millenium is located at the corner of 14th Street and the Nicollet Mall. Directions are available on the Web using your favorite map site or from the Millennium site, or you can call the hotel at the numbers above.
Hotel Maps
Lower Level
Lobby Level
Top Floor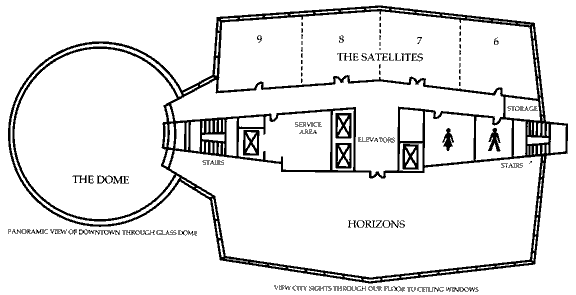 Revised: Saturday, 07-Jun-2003 09:47:55 PDT by Kevin G. Austin
Email questions or comments to webmaster@minicon.mnstf.org