Minicon 56
April 7-9, Easter weekend, 2023
Minicon is a volunteer run, general science fiction convention held every year on Easter weekend in or near Minneapolis, Minnesota. Minicon is run by the Minnesota Science Fiction Society, or MNStF. Attendees of Minicon can expect to find a full slate of programming (panel discussions, readings, signings, etc.), costuming, films, gaming (open and organized), a teen lounge, an art show, dealers, a kids' room, a science room, filk and folk music, a consuite and bar, room parties, and various special events.
Schedule
Here is the program book, including the complete programming schedule.
And here is the pocket program, with a handy dandy grid view of the program.
At-con publications
The Bozo Bus Tribune is our at-con newsletter. It had four issues at Minicon 56:
There was also the EXTRA, EXTRA Medallion Hunt, with two issues:
Mailers
We sent out two postcards ahead of the con. The first one went out just before Christmas 2022, on yellow cardstock. The second one (full color) went out in late February 2023.
Guests of Honor
Fulfilling the (not quite) ancient prophecies, Martha was born in Fort Worth, Texas and ascended to complete a fruitful education at Texas A&M. She took her accomplishments as a proud Aggie, went on to become an author and was published in the SF/F genre in 1993. Many, many good things are being delivered from her complex mind and there will be many more to come.
Her work spans areas from dark science fiction, to several different modes of fantasy, to futuristic speculative fiction and all sorts of divergences in between. From gripping short stories to multi-book series, YA content and occasional excursions into non-fiction, Martha's repertoire is sophisticated but accessible. Her characters and stories are seen through many lenses and perspectives, all with engaging and embraceable enthusiasm that shines through.
It is with great anticipation that we welcome Martha as our author guest of honor for Minicon 56 and hopefully she will find her experience here with us as enjoyable and illuminating as we anticipate we will find her. So, happy we're going to be seeing you with us, Martha!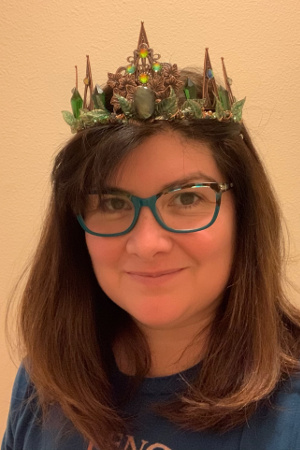 Sara Felix is a Hugo award winning mixed media artist. Her works are typically done in alcohol ink, acrylics and resin. She also creates a weekly tiara for Tiara Tuesday and has created over 100 unique tiaras in the project. She teaches online and in person classes when she can. They typically sell out quickly as she has a large following with her creations.
She has been guest of honor at multiple conventions across the states and shows at science fiction art shows when she can. She has designed 2 Hugo bases, the 2016 base and co-designed the 2018 Hugo base with Vincent Villafranca. She has designed three WSFS Young Adult Award/Lodestar awards as well as the nominee pins. She is the president of ASFA, the Association of Science Fiction and Fantasy Artists, who bestow the Chesleys each year.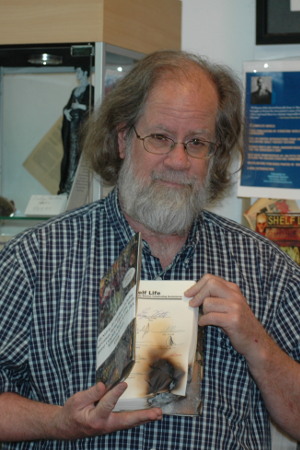 Greg Ketter is a Minneapolis SF bookstore owner, huckster, and con-running fan. He is a member of Minn-StF. He's worked on numerous regionals  and Worldcons. He chaired  Minicon 40, Minicon 41, and the 1993 and 2002 World Fantasy Conventions. He was the founder of SerCon (the convention). He has written for Rune and been a member of Minneapa.
Greg has been running the DreamHaven  SF bookstore  for around thirty years as well as its associated DreamHaven Press. He was also at one time a partner in The Stars Our Destination bookstore in Chicago. He published the Dreamhaven Fortieth Anniversary Scrapbook in 2017.
Who else will be at Minicon?
You! we hope. Have you registered? Have your friends? Not sure? Check The List of Members.
Bunches of former Minicon guests of honor and other professionals will be in attendance. You can also find them on The List.
Follow Us