Minicon 52
April 14th - 16th, Easter weekend, 2017
Minicon 52 is over. Maybe you'd be interested in Minicon 53?
About Minicon
Minicon 52 looks to the skies and celebrates all things space – space ships, space travel, space opera, space pirates, space camp – and adds some real astronomy to keep us grounded. With a focus on hard science, we will explore what SF has gotten right and what is just wistful fantasy. Toss in some fantasy to give us a break from the hard science and Minicon 52 has something for everyone.
Minicon is a volunteer run, general science fiction convention held every year on Easter weekend in or near Minneapolis, Minnesota. Minicon is run by the Minnesota Science Fiction Society, or MNStF. Attendees of Minicon can expect to find a full slate of programming (panel discussions, readings, signings, etc), costuming, films, gaming (open and organized), a teen lounge, an art show, dealers, kids' programming, a science room, filk and folk music, a consuite and bar, room parties, and various special events.
Guests
Brother Guy Consolmagno - Science Guest of Honor
Brother Guy was named by Pope Francis to be the Director of the Vatican Observatory in September 2015, a post with the popular title of "The Pope's Astronomer". He joined the Brotherhood in 1991 and was assigned to the Vatican Observatory and there he has happily stayed.
Of course, he has strayed temporarily from time to time for adventures in Antarctica and other varied experiences (who wouldn't?), tirelessly pursuing his exploration of the commonalities between faith and science. He has appeared at a wide variety of venues; from science fiction conventions, to scientific symposiums, NPR shows and the Colbert Report, all to have informed and informative discussions about his reverence for science and faith.
Mark Oshiro - Fan Guest of Honor
Los Angeles born Mark Oshiro is the progenitor of the Mark Does Stuff universe. This alternate reality is composed of Mark Reads, Mark Watches and Mark Plays (RIP). Using blog entries, essays, and commentary, he creates breakdowns of series he is reading or watching, chapter-by-chapter or episode-by-episode without any pre-existing awareness of the subject matter; sort of a "stream of" "experience" presentation.
A Hugo nominated author for Best Fan Writer in 2014, Mark attends numerous conventions and yet continuously finds time to expand his blogging empire. From this busy schedule, he has made time to appear at Minicon 52 to share his unique perspectives and experiences. You are not prepared!
Jim C. Hines - Author Guest of Honor
Michiganian (Michiganite? Michiganarian?), Jim C. Hines is an established science fiction/fantasy author who has created 3 popular series (Libriomancer, Goblin Quest, and Princess) as well as many other standalone efforts and numerous stories included in collections. He has also produced many non-fiction efforts on a wide array of subjects from writing and publishing advice to essays on sexism and harassment in fandom. He won Best Fan Writer Hugo award in 2012 and has appeared at many science fiction and fantasy conventions.
Jeff Lee Johnson - Featured Artist Guest
Jeff Lee Johnson has been a freelance illustrator in the science fiction/fantasy genre for over 12 years. His art has appeared in commercials, educational materials, games, books, TV, and even on the Jumbotron at Target field. He has dozens of book and magazine covers to his credit, and over a thousand other illustrations under his belt. His clients have ranged from Games Workshop (Warhammer) to Painter Magazine to Fantasy Flight Games.
News
T-shirts
You can still buy Minicon 52 t-shirts from Offworld Designs.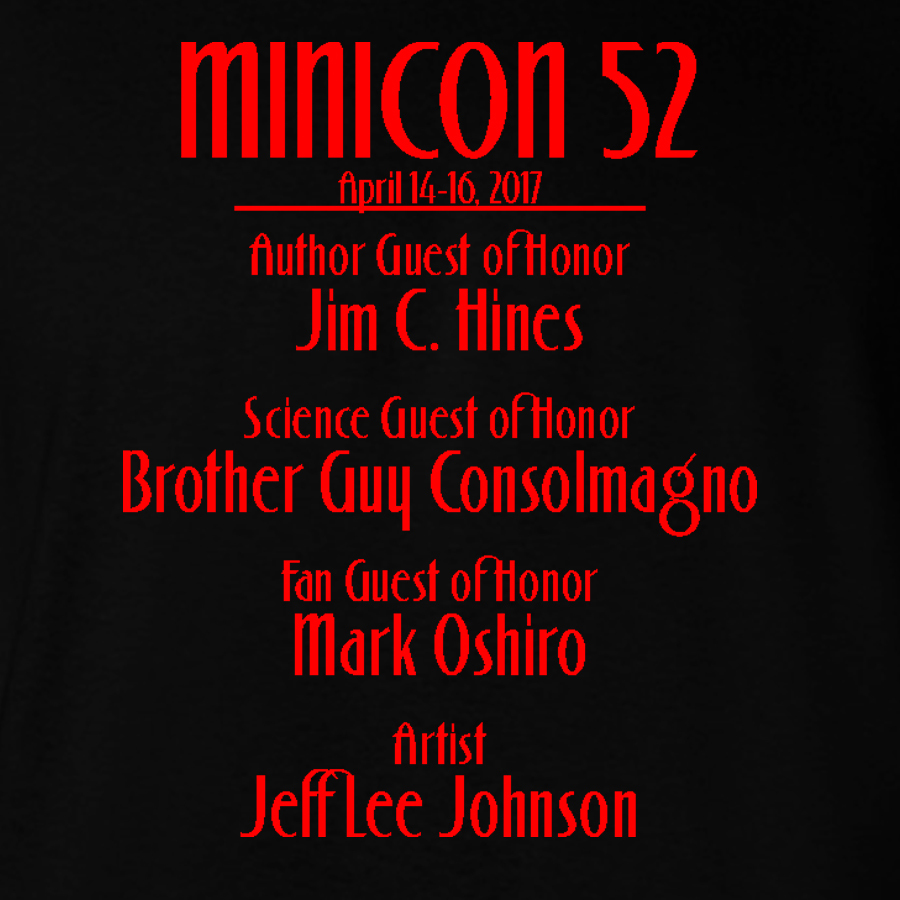 Programming schedule
The programming schedule and program book are available.
Hotel
Minicon 52 will be back at the DoubleTree Bloomington (formerly the Sheraton, formerly the Radisson). You can now book your room. Please check our hotel page for more info.
Guests of Honor
We are proud to announce the Minicon 52 guests of honor: author Jim C. Hines, "The Pope's Astronomer," Brother Guy Consolmagno, and fan Mark Oshiro.
Online Registration Open
Online registration for Minicon 52 is now open. Become a member today.
Follow Us