Not-Anokon 8
Not-Anokon 8 was a Minnstf fallcon, held 5–7 September 1986 at the Bandana Square hotel (not yet a Best Western, I think?). Bob Shaw was the guest of honor. We're not sure who chaired it, but it wasn't Beth Friedman and Gin Nelson, Beth says. The August 1986 Einblatt implies that it was Joyce Scrivner.
Here is a scan of the confirmation card (the back is blank). And here is a text rendering of the same.
This USENET post (found here) gives the following:

   NOT-ANOKON 8.  Sunwood Inn, Bandana Squeare, St. Paul, MN (Queen (queen-size
   murphy bed) $39 sngl/$44 dbl, King (king-size bed) $45 sngl/$50 dbl, Dbl-dbl
   $42 sngl/$47 dbl, Exec. dbl $47 sngl/$52 dbl, Queen suite $67, King suite 
   $72).  GoH: Bob Shaw.  Other guests: TAFF winners. Memb: Supporting $6 ($4 
   to convert at the door); Attending $10 thru 23 Aug 86, at the door TBA.  
   Info: Not-Anokon, P.O. Box 7620, Minneapolis, MN  55407.

Badge
Here are two Not-Anokon badges that don't say what year they are. There have been four Not-Anokons and we have badges for 2 and '85, so these must be for 1 and 8, but we don't know which is which.
Mailer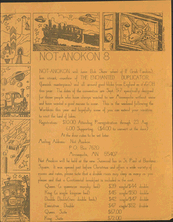 Here's a progress report-like mailer.
Name
The name of this convention is currently a mystery to the archivist, but three sources (the confirmation card above, the mailer, and the USENET post) give it in the same way; it is clearly not "Not-Anokon 3", which at first glance would seem to make more sense. It is marginally possible that it was really "Not-Anokon 86" and the "6" kept getting lost, but that seems like quite a stretch. There's one set of board minutes that simply calls it "Not-Anokon", and the August and September 1986 Einblatts call it just "Not Anokon", neither of which doesn't do much to not clear things up.
David Dyer-Bennet is against the theory of truncated-86, since "using a year rather than a number is all wrong for us in that period."
At least two people have raised the theory that it was named so for being the 8th fallcon. The trouble is that it is the 11th fallcon. Or if Minicons 5 and 9 are excluded, it is the 9th. If Anokons 1 and 2 are excluded (hardly being Not-Anokons!), then it is either the 7th or 9th. So this does not seem to work, although it is certainly possible that whoever named it thought it was the 8th.