Minicon 18
Minicon 18 was held 20–22 April 1984 at the Leamington Hotel (Minneapolis). Chelsea Quinn Yarbro was Pro Guest of Honor; Dave Wixon was Fan Guest of Honor; Steve Hickman was Artist Guest of Honor; Somtow Sucharitkul was Musician Guest of Honor; Bob Tucker was Smooth Guest of Honor; and Rusty Hevelin was Toastmaster. The executive committee was Don Bailey, Steven Bond, Caryl Dixon, Scott Imes, and Mark Richards.
Membership
We think, for no documented reason, that the membership was about 1450. But according to notes Matt found, 1385 was the total registered. "Total registered" was underlined twice in those notes, but it then goes on to be unsure if that includes 30 or 31 comps or not. That plus a few more corner cases (e.g. the GoH and their companions, free babes-in-arms, etc.) could get us pretty close to 1450. Anyway, said second set of notes say there were 333 at-the-door, putting the pre-reg at 1052, modulo above ambiguities.
Name
Although the name of the con was very consistently stylized as "Minicon 19̸84̸" (that is, "1984" with slashes through the 9 and 4), the name was "Minicon 18". This is confirmed in the program book and also by Geri Sullivan when asked in 2017.
Program Book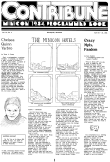 Here is a PDF of the Minicon 18 program book (8 MB). This book was printed as a newspaper.
Scans are available here in a range of qualities and file sizes. Most people want the middle column in which the files have been substantially cleaned up to remove the grain of the paper, bleed through from adjacent pages, etc., but are still high resolution. The right column has the scans reduced to monochrome and to the smallest legible size.
Except as noted below, portions of the Minicon 18 Program Book made available here are by the Minnesota Science Fiction Society, Terry A. Garey, Emma Bull, Dean Dierschow, Matthew B Tepper, Terri Windling, Michael Butler, and Ken Fletcher and are licensed under a Creative Commons Attribution-Noncommercial-Share Alike 3.0 United States License.
Content by Dave Crawford is © Dave Crawford and is reproduced here by permission. Content by Karen Johnson is © Karen Johnson and is reproduced here by permission. Content by Kate Worley is © Kate Worley and is reproduced here by permission. Content by Reed Waller (art – page 1), Caryl Dixon (text – pages 6, 7), David Cummer (art – page 9), and Richard Stuefer (art – page 10) are © each of them. Advertisements remain property of the advertisers.
This notice overrides copyright notices in the original document, if any.
Flyer

A flyer titled "MINITRUE - Report I". Not a progress report, since it clearly couldn't have been mailed.
Earlier Flyer

A one-sided flyer listing fewer GoH.
T-shirt
Here's the t-shirt, front and back, respectively. The art on the back is by Laramie Sasseville:

Photos
Minicon 18 photos by David Dyer-Bennet.