Minicon 19 was held 1–3 April 1983 at the St. Paul Radisson. The guests of honor were Larry Niven (pro), Pamela Dean and David Dyer-Bennet (fans), Dave Sim (artist), Spider John Koerner (music), Steven Brust (toastmaster), and Nostradamus (proxy). The executive committee was Don Bailey, Steve Bond, Scott Imes, Mark Richards, and Caryl Wixon.
Membership
There were 893 pre-registered members and 1185 total members. There were 75 supporting memberships, of which 60 converted. I (Matt Strait) got the pre-reg number from a complete list of pre-registered members. The total comes from summing up all the registration cash-in sheets found in the archives, but taking the list of pre-reged members to be more authoritative. There were several mysterious features, involving about a dozen members, such as people seemingly supporting and/or pre-registering at the door. I can hazard some guesses as to what that means, but suffice it to say that these numbers are somewhat approximate. I think I have all the sheets, but there is no grand total, so if anything the total membership number might be a bit low.
The Number
Yes, Minicon 19 was in 1983, following Minicon 14, and being followed by Minicon 18. See some details on the Minicon 14 page for how this got started.
Unsurprisingly, various internal documents mistakenly refer to this Minicon as 18. It wasn't until part way through the year that the concom decided to call it 19. So a paper with "Minicon 18" on it might be about the Minicon in 1982 (14), the one in 1983 (19) or the one in 1984 (18).
Committee
ARCADE: David Cargo*
ART SHOW: Erin McKee*, Steve Bond, Steve Cox, Dave Crawford, Kara Dalkey, Joel Halpern
CHILD CARE: Sharon Kahn*
EXEC: Don Bailey, Steve Bond, Scott Imes, Mark Richards, Caryl Wixon
FILMS: Floyd Henderson*, John Bartelt, Keith Hauer-Lowe, Todd McInroy, Lee Reynolds
GoH LIASON: Will Shetterly*
HOTEL: Jean Messer*, Caryl Wixon*
HUCKSTERS: Greg Ketter*
LIFE SUPPORT: Beth Friedman*
LIGHT SHOW: Richard Tatge*
MAIL: Mark Richards*
MAILING LIST: Don Bailey, Steve Bond, Judy Cilcain, Dean Gahlon, Karen Johnson, Scott Raun
MICRO-PROGRAMMING: DavE Romm*, Brian Westley*, David Cummer
MIMEO ROOM: Erik Biever*
MN MUNCHIE MOVEMENT: Rick Gellman*
OPERATIONS: Martin Schafer*

Communications: Beth Friedman, Joel Halpern, Robert Ihinger, Kathy Marschall, Virginia Nelson, Karen Schaffer, Geri Sullivan, Gerri Williams
Den Mothers: Gerri Balter, Emma Bull, Eileen Lufkin, Jean Messer, DavE Romm
Keypers: David Cummer, Kara Dalkey, Karen Johnson, Todd Mclnroy, Barney Neufeld, John Stanley
Recruiting: Steven Brust
Troubleshooters: Steve Glennon, Curtis Hoffmann, Dave Messer, Jerry Stearns

PARTIES: Jonathan Adams*, Carol Kennedy*, Virginia Nelson, David Cummer, Brian Major, Lee Pelton, Herman Schouten
PROGRAMMING: Mike Smith*, Emma Bull, Kara Dalkey, David Egge, Doug Friauf, Eric Heideman, Blas Mazzeo, Lee Pelton, Lee Reynolds, DavE Romm, Richard Stuefer, Brian Westley
PUBLICATIONS: Karen Johnson*, Erik Biever, Emma Bull, Sarah Prince, Geri Sullivan, plus thanks to Kara Dalkey, Ken Fletcher, Mark Hopkins, Erin McKee, Will Shetterly
REGISTRATION: Peter Larson*, Judy Cilcain*, David Cargo, Kashia Curney
SALES: Scott Raun*, Kate Worley
TREASURY: John Robey*, Sharon Riger
T-SHIRTS: Kate Worley*
Plus: Lynn Anderson, Dave Wixon
* indicates head of department
Program Book

Here it is in PDF (15 MB), or in plain text (34 kB).
Toggle display of more details
Alternatively, here are page images. They are available here in two qualities and file sizes. The first column has the raw scans. Most people want the second column, in which the files have been substantially cleaned up to remove the grain of the paper, bleed through from adjacent pages, etc. The PDF was generated using the second column.
Except as noted below, the Minicon 19 Program Book is by the Minnesota Science Fiction Society, Ken Fletcher, or Erin McKee and is licensed under a Creative Commons Attribution-Noncommercial-Share Alike 3.0 United States License.
Advertisements remain property of the advertisers.
T-shirt
There were two designs. Here's one, front and back, respectively (the shirt pictured was seemingly hand-altered to a tank top). The art on the front is by Laramie Sasseville: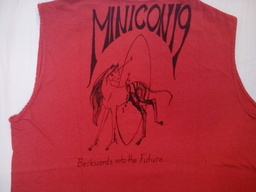 And here's the other design: